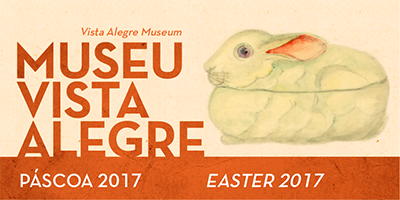 WORKSHOP "ARTS AT THE FACTORY"
APRIL 8-18 | 10 A.M. – 1 P.M. / 2 P.M. – 7 P.M.
Rabbits, top hats, teapots and coffeepots! What does all this have to do with Easter? Join us at the table to discover the characters of a Vista Alegre Easter.
Registration: 3.50€/ children for drawing activity or 8.00€/ piece for free painting with acrylics
---
WORKSHOPS "MADE BY YOU"
APRIL 8-18 | 10 A.M. – 1 P.M. / 2P.M. – 7 P.M.
Decorate Vista Alegre pieces with acrylic paints or get your hands dirty and shape clay!
Registration: Painting workshop: 7.00€/ piece or Pottery workshop: 5.00€/ participant
---
"MY VISTA ALEGRE DIARY"
APRIL 11 & 12| 10 A.M. – 5 P.M.
To remember later... Write, draw, observe carefully.
Come and create a diary to keep the memory of your days visiting Vista Alegre!
Target group: 8-14 years old
Inscription: 12€ / child | Discount on registration of 2nd child. Includes lunch and materials for carrying out the activity (by appointment by April 5th)
---
REGISTRATION AND INFORMATION:
Museu Vista Alegre
vistaalegre.com
+351 234 320 628

Location: The Educational Facilities of Vista Alegre Museum (former Creche VA)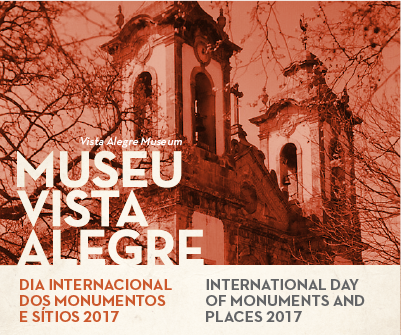 INTERNATIONAL DAY OF MONUMENTS AND PLACES ­‑ 2017
18th OF APRIL
Free entrance to the Nossa Senhora da Penha de França Chapel
From 10 am to 7 pm – Free Visits
10:30 am . 11:30 am . 02:30 pm . 04:00 pm . 05:30 pm . 06:00 pm – Guided visits
7:00 pm Vacuos Brass Ensemble Concert conducted by the Maestro Leonel Ruivo
Informations:
Museu Vista Alegre | vistaalegre.com
museu@vistaalegre.com | +351 234 320 628
Local: Nossa Senhora da Penha de França Chapel | Vista Alegre | Ílhavo
The Museu Vista Alegre has several leisure and discovery proposals at the Vista Alegre's Industrial Site. Go to Opening Hours and Tickets to find out more.
---
Workshops "Feito por Si" – "Made for you, by you"
In this space you can be a potter or a painter for one day. Unleash your imagination… Discover the characteristics of porcelain modelling or develop new decorations, exploring colours and drawings.
Painting workshop: EUR 7.00 / piece. A plate or pencil holder free painting with acrylic painting. At the end participants takes the piece made by them.
Pottery workshop: EUR 5.00 / participant. EUR 12.00 / Family Ticket (2 adults and up to 2 children under 18 years of age. Additional family member: an extra 2.50€). Work with porcelain paste using cutting moulds or free modelling works. At the end each participant keeps the piece he/she made accomplished in raw.
Opening Hours
5th of April to 1st of May | 1st of July to 31st of September
10 am – 1 pm / 2 pm – 7 pm
These workshops are held in the Serviço Educativo (the educational facilities) of the Museum – building of the ancient Creche of the Fábrica da Vista Alegre. For further informations please contact the Museum.