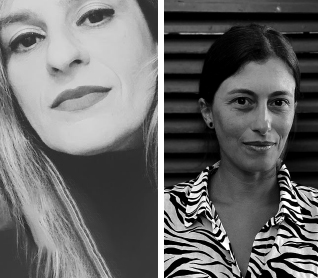 BÁRBARA R. E CLÁUDIA LUCAS CHÉ
Bárbara R.
Bárbara R. is a communication designer and illustrator. She completed her undergraduate degree in Communication Design from ESAD Matosinhos and participated the Erasmus project at ESA Lorient (France). Later, she completed a professional course in Photography at IPF Porto and a few years later a Master's degree in Illustration at ESAG. She has worked in some companies in Portugal, France and Canada. She was co-founder of Feia - Associação de Ilustração and participated in several individual and collective exhibitions as well as several workshops. She was part of the organizing committee of the 8th and 9th Encontros de Ilustração de S. João da Madeira where she was also in charge of the entire image of the event. In 2017 she published the book "O Sol da Sra. Azul" by herself. Currently she works in the area of event design, textile illustration and editorial. Books and travels were always present in her life. She grew up surrounded by green areas with mountains close by and the sea nearby. She has already lived in several places and now she has returned to Porto, the city that has always filled her heart and where she is planning projects for the future!
Cláudia Lucas Chéu
Cláudia Lucas Chéu (1978) is a writer, poet and playwright. She has published the play scripts Poltrona – monólogo para uma mulher; Glória ou como Penélope morreu de tédio (Bicho do Mato / Teatro Nacional D. Maria II); A cabeça muda (Cama de Gato); Veneno, Coleção Curtas da Nova Dramaturgia – Memória (Guilhotina, 2015). She has also published a book of poetic prose, Nojo (não), and the poetry collections Trespasse (Guilhotina, 2014) and Pornographia (Labirinto, 2016). In 2017, her book Ratazanas (poetry) was published in Brazil by Selo Demónio Negro, São Paulo. Her first novel Aqueles que vão morrer (2018, Labirinto), was followed by Beber pela garrafa (poetry, Companhia das Ilhas, 2018), A Mulher-Bala e outros contos (short stories, Labirinto, 2019) and Confissão (poetry, Companhia das Ilhas, 2020).
More Details