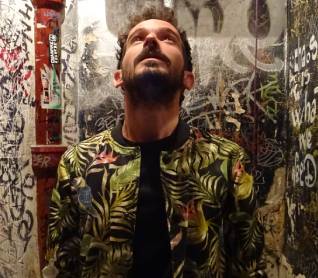 Born in Ponte Nova (Minas Gerais, Brazil) in 1984, Eduardo Fonseca began studying Geography in 2003 but abandoned the course to follow what was really important to him. He graduated in Painting from the School of Fine Arts of the Federal University of Minas Gerais in 2009. The following year he moved to Lisbon, where he completed his Master's Degree in Painting at the Faculty of Fine Arts of the University of Lisbon. During the years he lived in Portugal, his work focused on social-political issues, perhaps because of the context he encountered when the country entered an economic crisis, exploding in a series of protests.
In 2013 he returned to Brazil and found himself once again in the midst of political chaos, with popular demonstrations that had never been seen before. His work, already marked by a critique of society and its various forms of relations, was further cemented. In 2015 he moved to New York, where he expanded his work, painting murals on the streets of Brooklyn. There, he witnesses a sequence of racial protests due to the police murder of a black citizen.
In 2016 he returned to Portugal to participate in the urban art festival Paratíssima, opening a new exhibition at the Galeria Arte Periférica, CCB, and he also took part in the SWAB International Art Fair in Barcelona. In 2017 he moved again, this time to Paris, where he was accepted for an artist residency at 59 Rivoli. There he met a number of artists from all over the world. His network of contacts grew, he built bridges with other institutions and in 2019 he received an invitation from Nongyuan International Art Village in Chengdu, China, for another residency. He has exhibited in several countries, including Portugal, Spain, the United States, Brazil, China, France, Italy, Uruguay and the Netherlands.