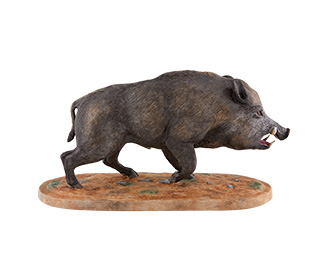 The Game Collection consists of an exclusive series of porcelain pieces representing animals usually found in the Iberian Peninsula and other ecosystems, namely the Roe Deer, the Fallow Deer, the Red Fox, the Wild Boar, the Mouflon and the Red Deer.
Each piece will be launched as a limited, numbered edition, at the rate of one piece per year, although this shall be subject to the time required to create this exquisite collection.
The meticulous reproductions of the animals depicted will be designed by Vista Alegre's creative department, with the assistance of specialists, and manufactured by hand by Vista Alegre's artisans. Remarkable sculpting and painting skills are combined to bring forth a series of polychromatic pieces of rare beauty.
Watch here the video of the production process Sculpture Red Deer.