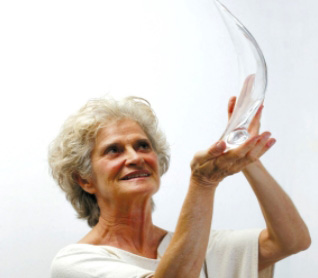 She was born in Lisbon on April 25th, 1946 and lived in Mozambique between the ages of 2 and 17. She graduated in architecture at the School of Fine Arts in Lisbon and specialized in Planning at the University College in London. Motivated by the influence of the environment on health and wellness, she deepened her studies of Feng Shui in Macau, China and Japan, and of Electromagnetics in France.
She worked as an architect in the UK, Mozambique, Rhodesia, South Africa, Portugal and Macau. Since 1992, together with architecture, she again took on sculpture, which she'd started in her teens, with the creation of prototypes for "Elan de Mãe" and "Holistic Family", already reproduced in crystal by Vista Alegre. Many of these sculptures are devised in clay and subsequently converted into other scales in various materials, including, besides crystal: brass, silver, tin and stone.
Cristina Leiria has also developed an important work of humanization of urban space, with works of public art, such as the Kun Iam Ecumenical Centre, built on an artificial island created for this purpose in the Pearl River in Macau, where the bronze statue of the goddess Kun Iam stands, 20 metres tall.
More Details