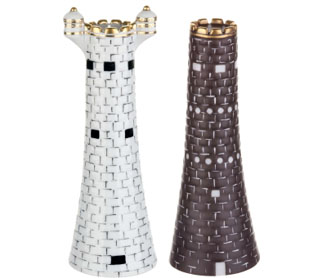 The work of Rémy Hétreau is a full reflection of the poet's vision of the world, filled with humour and tenderness, combined with the requirements of an artisan, his taste, expertise and beauty. The retrospective exhibit organised by the city of Orléans in the House of Charles Péguy gathers, for the first time, a full set of his many activities. The creation of the Galeries Lafayette, led by Jean Adnet, and the responsibility for designing and executing the windows.
He meets his love there, Jeannine Jager, also a designer, and discovers Brantes, a tiny hilly village in Vaucluse, perched on Mont Ventoux. Wonderful happiness. The separation due to the war is a painful interlude, expressed in almost daily illustrated letters, using his poetic imagination to escape from military reality. Upon his discharge, he returned to Paris to marry Jeannine. She will be his companion and a valuable ally in his work.
Their two universes mingled perfectly: she makes models for porcelain and textiles, in particular for Colette Gueden, in the context of Primavera, illustrations and charming watercolours, some of which are showcased in the exhibition. Their lives were so full and varied. Every summer, they would spend as much time as possible in Brantes, with their two daughters, Marie and Sylvie. This is where, in an old barn transformed into a workshop, they dedicated their life to their more personal works.
Born in Patay, Rémy Hétreau was deeply influenced by the landscapes of Beauce. He is a friend of the engraver Louis-Joseph Soulas, and he is very close to the cultural life of Orléans.
Appointed professor at the Institute of Visual Arts in the city, between 1961 and 1981, he is a member of the Artistes Orléanais, which he chaired between 1964 and 1984.
The rest of his life is mainly dedicated to engraving. Long familiar with the etching technique, thanks to the advice of Jacques Frélaut in his illustrations for "Hôtel du nord", he now seeks to master the techniques of dry point and burin.
He acquired a large press, prints various proofs himself with great care and good spirits, enriching some watercolours, each then becoming a new story. We find his world full of mischievous poetry, "the mark of his comic tenderness" (Claude Salvy).
His friend Barjavel once said "the work of Rémy Hétreau is beautiful and true as a garden in May; to those looking at it, the message that comes across is to be happy to live".

We hope it will continue to delight us for a very long time.
Marie and Sylvie Hétreau
More Details