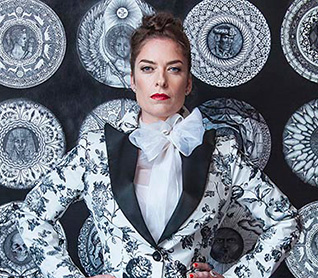 Helen M. Strevens b.1974 Auckland, New Zealand

A first class honours graduate from Auckland University architecture school, Helen M. Strevens received her baptism by fire as a set designer on epic film trilogy Lord of The Rings. She subsequently worked on The Lion, The Witch and the Wardrobe and The Hobbit, her work on the latter film recognised with a nomination for the Art Directors Guild Award. That, alongside the opportunity to design director Peter Jackson's private country house, were among early career highlights.

Helen established her design company, HMS Studio in 2011 while continuing with her film career. Helen's hand-drawn design collections adorn china, wallpaper and textiles. Narrative and character are strong themes in her work, calling to mind Jean Cocteau, who along with Fornasetti and Aldo Rossi she cites as an influence. Honouring the masters of the past, her work retains a timelessness that is at once classic and irreverent.

"Today, with life so driven by technology, it's important for us to retain our connection to art and culture. Beauty belongs in our everyday lives".

Her most recent film projects include Thor:Ragnorok, Ghost in the Shell and Mortal Engines. In the design world before working with Vista Alegre, Helen worked with Sir John Soane's Museum, London, and her was work exhibited in the New Zealand Room at the 2016 Venice Architecture Biennale.