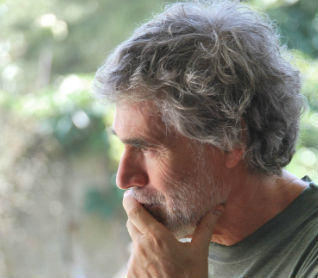 Jorge Pé-Curto was born in Moura in 1955 and has lived in Almada since 1965.
At the age of ten, he started attending the Children's Artistic Centre in the São Jorge Castle, where the painter Hermano Baptista was his mentor.
Later he studied sculpture at the António Arroio School as a Gulbenkian Foundation fellow. In 1982, together with other artists, he founded IMARGEM in Almada, a project that he would later leave behind. He was also a state school teacher for 17 years.

As an artist, Jorge Pé-Curto has been active in ceramics, painting, poster and engraving, but it would be sculpture, particularly in stone, that would be the focus of his work. Collectively, Jorge Pé-Curto has participated since 1972 in several exhibitions in galleries, various institutions, commercial spaces and outdoor sculpture shows. Since 1984, he has exhibited on his own. He has created several monuments, located in various regions of the country.