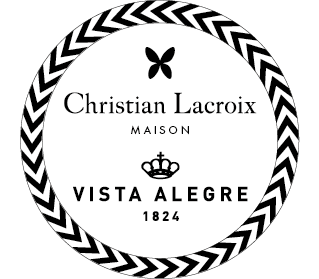 The passion for porcelain brings together two premium brands of worldwide reputation, which are characterized by the constant innovation and high quality design: Christian Lacroix and Vista Alegre.
These two insignia joined forces to offer the best that they have, giving life to the first collection of porcelain of the Christian Lacroix Maison and the first luxury line of Vista Alegre in partnership with a brand of haute-couture. The Christian Lacroix house was founded in 1987 by the LVMH group.
The Christian Lacroix house then began to present much appreciated couture lines which highlighted elaborate patterns with a profusion of colours. The brand would soon become an international reference in the fashion world, being elected by public figures such as Nicole Kidman, Madonna, Helen Mirren, Julianne Moore and Uma Thurman.
In expanding its product offering, the Christian Lacroix house developed lines of ready-to-wear clothes and accessories. In 2005 it is bought by the American group, Falic, which invested in strengthening the brand worldwide.
Under the creative direction of Sacha Walckhoff, since 2010, the brand launched a series of stunning lines for the home. Striking, cheerful and colourful, the diverse offering of the Christian Lacroix Maison currently includes fabrics and home accessories (pillows and wallpaper) edited by Designers Guild, a range of decorative panels in wood, in collaboration with Marotte, a line of stationery items manufactured by Libretto, in New York, and even a selection of scented candles edited by Welton in London.
Through its worldwide expansion of art de vivre, Christian Lacroix continues to establish its reputation, offering a wide range of fashion and lifestyle products.
In all collections, Sacha Walckhoff reinvents the characteristic themes and motifs of the Lacroix house, in the pursuit for new audiences.
More Details