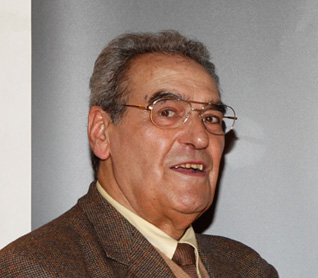 Eduardo Nery (Figueira da Foz, 1938 – Lisbon, 2013) got a degree in Painting, at the Escola de Belas Artes de Lisboa, having attended as well an Architecture course in the same school. His first exhibition was in 1964, at the Sociedade Nacional de Bela Artes. Throughout his diversified career, Nery covered a wide range of techniques, including blue tile painting, tapestry, stained glass and photography, but public art is the most notorious component of his work.
In his public art projects in urban areas or buildings were used the most diversified materials, including blue tiles, stained glass, tapestries and metal.
Among his most remarkable works are the blue tiles façade of Fábrica de Cervejas da Vialonga, the station and viaducts of the Campo Grande Metro, EPAL's head office and water treatment plant in Asseiceira, the south entrance to the CGD head office, BNU agency in Torres Vedras, the Palácio da Justiça in Setúbal, the Macau Airport, the façade of the Museu da Olaria de Barcelos and the staircase of Avenida Infante Santo, in Lisbon.
Regarding painting, his basic training, he was one of the main authors of the Op Art and abstract geometric painting in Portugal.
He was awarded several times, and his work was exhibited in countries such as Spain, Germany, Egypt, Brazil and USA, and is represented at the Everson Museum of Art, New York, at the Taipei Fine Arts Museum, in Taiwan, at the Gardiner Museum, in Toronto, at the Maihaugen Museum, in Norway, as well as in 22 Portuguese museums, including the Museu de Serralves, in Oporto, the Centro de Arte Moderna da Fundação Gulbenkian, the Museu Coleção Berardo and the Museu do Chiado, in Lisbon.
More Details