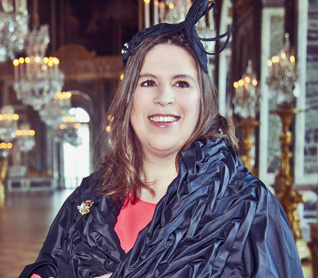 The nature of the creative process of Joana Vasconcelos (Paris, 1971) is based on the process of appropriation, decontextualization and subversion of the existing objects and of the daily realities. Using ingenious displacement operations, a reminiscence of the ready-made, nouveau réaliste and pop ideas, the artist gives us an accomplice and critical vision of the contemporary society and of the different aspects which identify the collective identity, especially those regarding the status of women, social classes' differences and the national identity. This strategy results on a discourse attentive to the contemporary characteristics, where the ideas handcraft-industrial, private-public, traditional-modern and popular culture-high culture arise prepared to renovate the meanings which characterize modernity.
In 2006, she received the award The Winner Takes It All, from the Fundação Berardo, with the "Nectar" work, currently installed on the Museu Coleção Berardo, in Lisbon; in 2003, she was awarded with the Tabaqueira de Arte Pública award for his "Kit Garden" project, installed at the Largo do Intendente in Lisbon; and in 2000 was awarded with the Prémio EDP Novos Artistas.
The interventions in the public domain art are particular relevant in the work of this artist, mainly the following projects: "Pavillon de Thé" (PA), "Cafesjian Center for the Arts", "Erevan"; "Kit Garden", "Largo do Intendente", in Lisbon; "Trianons # 1" at the Parque de Escultura Contemporânea Almourol, Vila Nova da Barquinha.
Joana Vasconcelos exhibits on a regular basis in Portugal as well as abroad since 1994, and her work is represented in many national or international public and private collections.
In 2012, her major exhibition at the Palace of Versailles recorded 1.6 million entrances, leading the table of the most visited exhibitions in Paris since 1960.
More Details