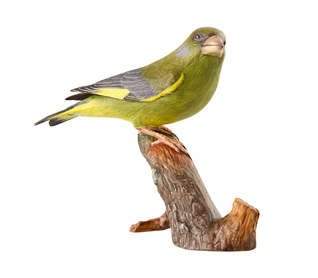 The Birds of Portugal collection, a special numbered series limited to 250 pieces, entirely hand-painted, represents the most characteristic birds in Portugal: the goldfinch, the wagtail, the titmouse, the common nightingale, the greenfinch and the bullfinch.
A collection with the precision and excellence that characterize the sculptures of the brand.

Verdilhão [European Greenfinch]
The vibrant plumage, where green predominates, with grey outlining the edges of the wings, ends in a robust beak. The European Greenfinch is found in agricultural areas, cork-oak forests, open areas with small woodlands and also parks and urban gardens, spread out all over Portugal. Its sociable and calm manner leads it to live in flocks, at times even with other birds, and to join in with song. Chirping happens in adulthood and it is easy to find greenfinches perched in grassland, spreading out their charm. It feeds mainly on seeds, however, during nesting season it also catches small invertebrates.
Verdilhão (Carduelis chloris) is a special numbered and limited edition of 250 copies, the fourth release of the Birds of Portugal Collection.