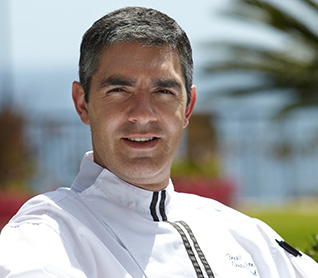 Born in 1972, in Gardanne, near Marseilles and from an early age, Chef Benoit got used to markets, the freshness of the products and the mystery of the aromas. Benoit would wait for the weekend to go with his grandmother shopping for the freshest products. Early he began helping in the kitchen and soon acquired the "technique" of fiddling with the pots and pans helping to prepare meals for the family.
By the age of 17, he already knew he wanted to be a cook and, strong-willed as he was, he prepared his own path: he studied at Gap 05, in the French Alps, in the local hotel professional school, and got his Bachelor's degree in culinary arts. He worked in several restaurants such as Hostellerie du Vallon de Valrugues and Chateau de Rochegude, both with a Michelin star, Cote St Jacques with three Michelin stars and Casa Velha Do Palheiro, a member of Relais & Chateaux in Madeira. The experience affected him greatly, and he often uses it for discipline, creativity and inspiration.
In Madeira he became a Chef working in harmony with the environment. It is where he feels happy: the products, the mild seasonal and the proximity to the sea make up his daily routine… And it is where he won his Michelin star in 2008 at the Hotel Cliff Bay restaurant, "Il Galo d'Oro", which is still the only restaurant on the island with that distinction from the French guide.
His technique and rigour are classic French, but his cuisine is flowing, full of flavour, flowing with the available ingredients associated savoured with the seasoning that has always fascinated him: aromatic and light cuisine, where he incorporates land and sea. With many influences from the place where he was born.
Restless, in 2010 he accepted the invitation of António Trindade, CEO of the hotel chain Porto Bay, and Jan Erik Ringertz, director of Hotel Cliff Bay, to develop several haute cuisine events to highlight starred restaurants in Portugal, following the annual route, the Rota das Estrelas. Currently, those are the most awaited moments within the national gastronomic calendar, where are all starred restaurants and chefs, as well as international chefs, are invited to participate in celebrating the gastronomy of the Iberian Peninsula.
More Details