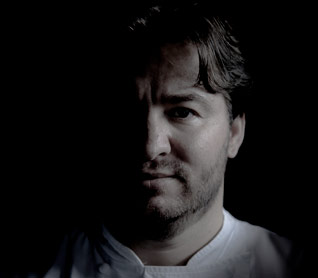 With a career divided between Portugal and Switzerland, Chef Vitor Matos entered the culinary world, attending the Kitchen and Pastry course (1992-1995) in Neuchâtel (Switzerland).
After graduating in 1995, he worked at "Restaurant des Jeunes Rives", returning to Portugal at the end of the same year. In 1998 he started his first job as a Chef, at Estalagem Quinta do Paço, in Vila Real, and afterwards he worked at the Grande Hotel da Curia, at Grande Hotel das Caldas da Felgueira, at Vidago Palace Hotel Golf & Spa, at Quinta do Pendão, at Tiara Park Atlantic Hotel and at Casa da Calçada Relais & Châteaux.
Throughout his nearly 20-year career, Vitor Matos has been a judge in several competitions and a guest speaker at various conferences and seminars. As a chef he has won many awards, among which stand out the distinctions as Chefe Cozinheiro do Ano 2003 (Edições do Gosto), Chef of the Year 2013 (WINE Magazine Awards), Melhor Cozinheiro de Portugal 2014 (Prémios Arco Atlântico Gastro), and Prix Chefs de l'Avenir 2011 (Académie International Gastronomie, Paris).
For his last project he received several awards while working at the Largo do Paço kitchen with the most recent distinctions including: 2 Sois in the Repsol Guide, one star in the Michelin Guide, Garfo D'Ouro of the Boa Cama Boa Mesa Expresso Guide, as well as the award of the Certificate of Excellence 2014 by TripAdvisor, and the title of Best European Restaurant by the European Guide 50 Best.com.
Vitor Matos is known for using seasonal and regional products, genuine and fresh, enhancing their flavours. The Chef's cuisine has Mediterranean influences and bears a mix between tradition and new gastronomic trends.
His most recent project is the Antiqvvm restaurant, where chef Vitor Matos unleashes his imagination and where technique and emotion stand out in his creations, aiming to provide a unique and unforgettable gastronomic experience.
More Details