The Chapel
The Nossa Senhora da Penha de França chapel was built in the late 17th century by order of the bishop of Miranda, Manuel de Moura Manuel and is one of the main points of interest of the Quinta da Vista Alegre.
This is an imposing building with beautiful architecture, which in the main façade, depicts a rich stone-carved image of the Nossa Senhora da Penha de França, Patroness of Vista Alegre. Inside the chapel, stand out the 17th century tiles of Gabriel del Barco, the marble altarpieces, the gilded woodcarvings, and the domes decorated with beautiful frescos. In the span of the Chancel stands the imposing tomb of Bishop Manuel de Moura Manuel, a magnificent work in stone from Ançã, by the artist Claude Laprade, which is one of the greatest points of interest of this chapel.
The Capela da Vista Alegre was purchased on public auction on the 26th of October 1816 by José Ferreira Pinto Basto and it was classified as National Monument in 1910.
Check Opening hours and ticketsfor more information about tours to the chapel
Theatre
This is a building whose first construction probably dates to 1826, a few years after the factory's establishment. It was demolished and rebuilt in 1851 for the expansion of the spaces and, in the beginning of the 20th century, it once again underwent a profound remodelling.
It hosted many activities, among them theatre, cinema, balls, concerts of the Banda da Vista Alegre [band] and, later, by the Choral Society.
The lighting was made with acetylene (gas), which was placed in a tank under the stage, through different branches that lit the space.
The reconstruction project was carried out by the City Hall of Ílhavo and during the next years, it will be managed by the 23 milhas.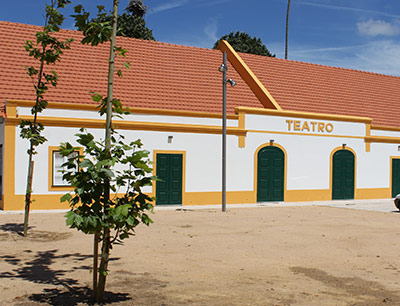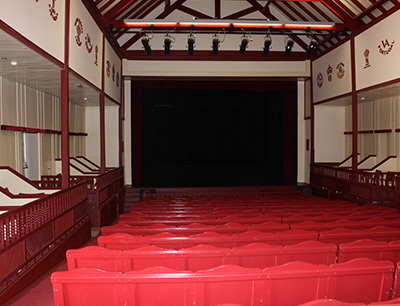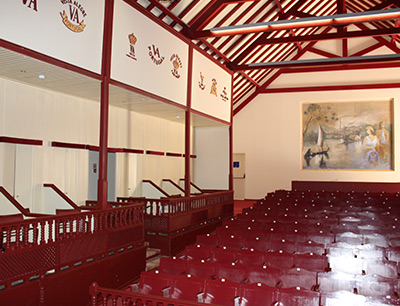 Vista Alegre Neighbourhood
The construction of the Neighbourhood started in 1824, upon the establishment of the factory, Fábrica da Vista Alegre. Owned by the factory and created for its employees, the Neighbourhood has different housing types, integrating buildings such as the Theatre, the Canteen or the Kindergarten. The Vista Alegre Housing Estateis a unique space that stands out because of the richness of its natural and architectural heritage, as well as because it represents the symbol of local memory and identity.